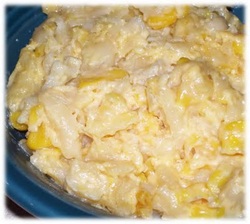 How to Make Macaroni Cheesy Corn
If you like Velveeta shells and cheese you will love this BBQ side dish recipe. Most people are starting to see cheesy corn spring up more and more when they go to BBQ restaurants throughout the United States.
Cheesy corn has really grown in demand and popularity recently, but this macaroni cheesy corn recipe is not one that you will see very often. It goes great when paired with a
smoked beef brisket
,
smoked ribs
, or
smoked turkey
. Use this recipe at your next summer BBQ event and you will have the best side in town.
Macaroni Cheesy Corn Recipe Ingredients
1 box of macaroni and cheese (Velveeta Shells and Cheese is best)
1 can of whole kernel corn (not drained)

1 can of creamed corn
1/4 cup of milk
2 tablespoons butter
Salt and pepper (to taste)
Macaroni Cheesy Corn Recipe Directions
Mix together your uncooked macaroni and cheese, whole kernel corn, creamed corn, milk, butter, salt, and pepper together in a 2 quart casserole dish.
Bake your macaroni cheesy corn mixture in the oven at 350 degrees for 45 minutes or until macaroni noodles are tender.


Back to all BBQ recipes >
Grilled Recipe Categories

---
---