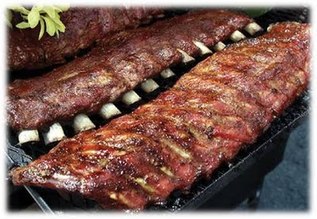 How to Smoke Pork Ribs
Smoked pork ribs are the most popular type of ribs that are sold at restaurants due to their large size and tender rib meat. Smoked pork ribs are also a staple in nearly every BBQ competition around the world. The jury is still out on whether the best barbecue smoked pork ribs are better left dry or with sauce. Either way, we recommend you try this recipe for an award winning taste that you will love to eat time and time again. The barbecue sauce on this recipe is optional, of course.
Smoked Pork Ribs Recipe Ingredients
2 slabs of pork ribs

2 tablespoons garlic powder
2 tablespoons onion powder
2 tablespoons black pepper
1 tablespoons salt
2 tablespoons chili powder
2 tablespoons cumin powder
2 tablespoons brown sugar
3 to 4 tablespoons paprika
2 teaspoons cayenne pepper
1 bottle of your favorite barbecue sauce, optional

1 bag of charcoal
1 bottle of lighter fluid or a

charcoal chimney starter

1 or 2 bags of wood chips of your choice
Aluminum foil
Smoked Pork Ribs Directions
Before you season your pork ribs, you will need to remove the white fatty membrane on the under side of the ribs. Use a butter knife or a meat thermometer to slide between the membrane and the bone on the pork ribs. Then pry and peel the membrane completely off. This will help your seasoning and smoke better penetrate the ribs.
Add all of the seasoning rub ingredients together and rub it on the top side of the pork ribs. Don't worry about over seasoning the ribs, as you really can't go wrong with fully coating the meat.

Light your smoker and soak your

wood chips

in water.
Once your smoker is heated to about 225 degrees Fahrenheit you are ready to put your wood chips directly on the charcoal or in a smoker box.

Place your pork ribs on the smoker with the membrane side down and the seasoned side up. This is important because it will make sure your the fat in the pork ribs will melt downward during the smoking process and help to moisten and tenderize the rib meat.
Check your pork ribs about every hour and a half. When your rib bones are sticking out about a half to three quarters of an inch you know that your meat has shrunk and they are done.

Some people enjoy dry ribs, so this step is optional if you want to caramelize barbecue sauce directly on the pork ribs before you serve them. To caramelize the BBQ sauce, mop on the sauce directly on the finished rib and slap it on a hot grill. You want to heat the sauce over a hot grill to cook it quickly to form a caramelized crust. Repeat this step on the other side of your pork ribs and then taken them off the grill.
After you remove the ribs from the grill, wrap each rib in aluminum foil and let them rest for a half hour before you cut into them. This added time will improve the tenderness of the pork ribs.
Pork Ribs Smoking Time
The average cooking time for pork ribs is about 4 to 6 hours on average but will vary depending on the size of the pork ribs. Pork ribs are easy to know when they are done because the rib bones will be a sticking out after the meat has shrunk back during the smoking process. See our
meat doneness chart
for a full list of different meat doneness internal temperatures.
See all smoked pork recipes >
See all smoked recipes >