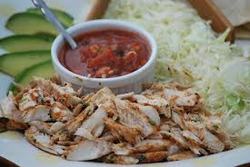 Fish fajitas put a new spin on a classic Mexican dish that will surely have your guests asking where you got the recipe. Next time you want to have steak or chicken fajitas think about this recipe as a healthier alternative that will have you looking like a gourmet chef in no time. Plus, you can always buy the recipe ingredients for this fajita recipe and also plan to make grilled fish tacos with similar ingredients to make your budget stretch further. This recipe will walk you through all of the necessary steps in order to master this dish from how to impart a smoky flavor into your vegetables and how to prevent your fish from sticking on the grill grates. Though we recommend toppings in the ingredients list below, feel free to customize the toppings and ingredients to your preferences.
---
Grilled Fish Fajitas Ingredients

Fish fillets
Salt and lemon pepper
Tortilla shells
Salsa
Avacado
Shredded Mozzarella cheese
Shredded lettuce
Green pepper
Onion
Grilled Fish Fajitas Directions

If you have a gas grill, fire it up to medium-high heat 15 minutes prior to cooking. If you are using charcoal, allow yourself 30 minutes to have the charcoal get white ashy before cooking on it. Make sure to rake your charcoal down to a single layer in order to eliminate hot spots and cook the fish evenly.
The key to this fajita recipe is grilling the green pepper and onion along with your fish fillets. We recommend throwing them on whole about 5 minutes before you put your fish on to allow them a little more time to cook. This will impart a smoky and grilled flavor that is hard to reproduce in a skillet.
Brush your favorite fish fillets with oil or cooking spray to prevent sticking on the grill. Then, sprinkle salt and lemon pepper on both sides of the fillets to season. Grill your fillets for about 3-4 minutes on each side and take them and the onion and green pepper off at the same time. Don't worry if your onion and green pepper is all the way cooked because you will finish them in the skillet over the stove top.
While your fish is cooling, slice your onion and green pepper into strips and throw them into a skillet with a little warmed up oil over medium heat. Let your veggies continues to cook for 3-4 minutes to develop the right texture.
Slice your fish fillets into strips and put them on a serving tray along with your other fajita ingredients.

Grilled Recipe Categories

---
---