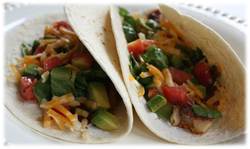 Grilled Fish Fajitas Directions
If you have a gas grill, fire it up to medium-high heat 15 minutes prior to cooking. If you are using charcoal, allow yourself 30 minutes to have the charcoal get white ashy before cooking on it. Make sure to rake your charcoal down to a single Fish tacos are a staple of restaurant menus around the world due to their light and flaky texture and their healthy benefits. Fish is an extremely healthy alternative compared to other meats such as red meat or even poultry. Ground beef may actually contain four times the amount of fat content compared to the typical fish fillet, making it great for losing weight and keeping your cholesterol down. Grilling your fish is also the best way to impart a smoky flavor without adding additional fat content like frying your fish will. This southern inspired dish will warm your belly on a cold evening. Grilling the fish with a blackened Cajun seasoning adds a little spice to this dish to make it pop, but if you are really daring, add hot sauce or spicy salsa to top it off.
---
Cajun Fish Taco Ingredients

Fish fillets

Blackened Cajun seasoning

Tortilla shells

Your favorite shredded cheese

Fresh diced tomato

Lettuce

Avacado

Lemon juice

Hot sauce or hot salsa (optional)
Grilled Cajun Fish Taco Directions

Start this recipe by firing up your gas or charcoal grill and let it warm up to medium-high heat.
Season your fish fillets with the blackened Cajun seasoning and drizzle a little hot sauce on top of each fillet (optional). If you can't find Cajun seasoning, a substitute can be Creole seasoning as it has the same southern inspired roots with similar spices.
One of the tricky parts of grilling fish is its natural tendency to stick to the grill grates and flake apart on you. There is nothing more frustrating than cooking a nice juicy fish fillet and having it fall through the grates to have you ordering pizza for dinner. In order to prevent this, brush your fillets and the grill grates with oil or cooking spray. You can also use grilling baskets or pans designed for cooking fish which will reduce the size of the grates they can fall through, but you will still want to use oil or cooking spray.
Once your fish are on the grill, they will cook pretty quickly with 3-4 minutes on each side before flipping them. This will obviously depend on the size and thickness of your fillet, but this is a pretty good rule of thumb. Once you flip the fillets once, drizzle a little lemon juice on the top to enhance the flavor.
Once your fillets have a nice little blackened char on the outside they are ready to come off the grill and rest for 5 minutes to cool.
Shred your spicy grilled fish fillets and drop them into your tortilla shells.
Next, fill your tacos up with the rest of the chopped ingredients. Again, you may choose to top with lemon juice and hot salsa or sauce in order to add a little more kick and flavor to this recipe.
Grilled Recipe Categories

---
---