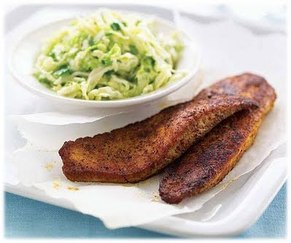 How to Smoke Cajun Tilapia
Cajun is a great seasoning paired with tilapia because it provides a little kick to the somewhat bland fish. We also recommend eating this dish with some grilled vegetables, rice, or green lettuce salad. This makes for a healthy dinner option that doesn't sacrifice quality or flavor.
---
Cajun Seasoning Recipe Ingredients
4 tilapia fillets

2 1/2 tablespoons salt
1 tablespoon dried oregano
1 tablespoon paprika
1 tablespoon cayenne pepper
1 tablespoon ground black pepper
1 tablespoon lemon juice
Other Recipe Ingredients
1 bag of

charcoal

1 bottle of lighter fluid or a

charcoal chimney starter

Aluminum foil

1 or 2 bags of

wood chips

of your choice (apple or peach wood recommended for light flavor)
Smoked Tilapia Recipe Directions
Soak your wood chips and light your smoker until it reaches 225-250 degrees Fahrenheit. If you have a charcoal smoker, it will take 30 minutes for it to come up to temperature. Gas grills are faster and should heat up to the right temperature in about 5-10 minutes.

Mix all of your tilapia seasoning ingredients together and rub them on the tilapia fillets. Next, drizzle your lemon juice over the top of the fillets to flavor them and add moisture to the smoking process.

Wrap your wood chips in an aluminum foil pouch or a place in a metal smoker box. Make sure you punch holes in the pouch so the smoke can escape the pouch.
Place the Cajun seasoned tilapia fillets on a sheet of aluminum foil sprayed with non-stick spray and lay them on the grates of your smoker. This will help the fillets from falling through the grates of your smoker. Open the vent completely open to allow airflow and smoke to billow out the top.

Check the tilapia after about 1 hour and make sure your temperature is holding at 225-250. Add wood chips and continue cooking for another half hour to 1 hour longer.

Serve each Cajun smoked fillet with grilled vegetables, rice, or a green lettuce salad.