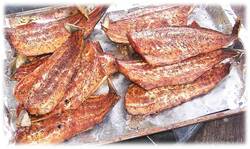 How to Smoke a Walleye
Walleye is every angler's dream to catch due to its large size that can put up a good fight. But, perhaps more importantly to those that don't practice catch and release, walleye have a light meat with great flavor that is known as a delicacy. Unfortunately, most cooks drop these delicious fish into their fryers with some batter because they don't know another method to preparing them. Smoking them brings out the natural flavor while imparting a nice smoky flavor and is much healthier than fried oil cooking.
Walleye Recipe Ingredients
Walleye fillets cleaned and deboned
Cajun seasoning
Lemon pepper seasoning
Salt and pepper
Wild rice and a lemon slice (optional)
Smoked Walleye Directions
Warm your smoker to medium-high heat with a light fruit wood chips or chunks.
Take your Walleye fillets that are cleaned and deboned already and top with Cajun seasoning, lemon pepper, salt and pepper.
Put your fillets on the smoker for about an hour and a half, depending on your smoker and its temperature. Check your fillets every 45 minutes by putting a metal fork in the center. When they are hot to the touch in the center and white and flaky, pull them and let them cool.

You can serve these delicious Walleye fillets on a bed of wild rice next to a lemon (optional).