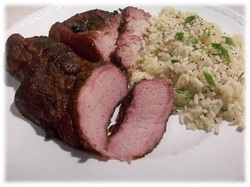 How to Smoke Venison Deer Steaks
Venison steaks are a challenging meat to smoke because they tend to dry out on the smoker or grill. Cooking a venison steak anything past medium or medium well will cook out all the juices that make the meat juicy and tender. We also recommend tenderizing the meat with a meat tenderizer and marinating the steaks over night to help keep the steaks moist throughout the smoking process. It doesn't matter how well you follow this recipe if you end up over cooking the deer steak and serving a piece of meat that is tough and chewy. Having a
wireless instant-read meat thermometer
is another way to prevent over cooking your venison steak.
Smoked Venison Deer Steak Recipe Ingredients
8 deer steaks
1 bottle Italian dressing
Lawry's seasoning salt or steak seasoning
2 cloves garlic

2 tablespoons basil seasoning or fresh basil


Other Smoking Recipe Ingredients
1 bag of charcoal
1 bottle of lighter fluid or a

charcoal chimney starter

1 or 2 bags of wood chips of your choice
Smoking Venison Deer Steaks Recipe Directions
This recipe starts the night before you want to smoke the venison steaks due to our recommended length of marinating time. If you are short on time you can attempt this recipe with a minimum of 4 hours marinating time, but you may end up with a less tender steak result. Simply mix the seasoning and marinade ingredients together and fully coat the 8 deer steaks. Place the steaks in the refrigerator until you are ready to put them on the smoker.
Next soak your wood chips in water, beer, or apple juice for approximately an hour prior to putting your venison steak on the smoker. Make sure not to soak your wood chips for more than a couple hours.
Light your charcoal smoker. This will take about 30 to 35 minutes before you are ready to put your venison steaks on.
Put your wood chips in a foil pouch or a smoker box so your wood chips don't light on fire and quickly burn out. You can punch holes in the top of your foil pouch so the smoke can escape and flavor the deer steaks.
Place your venison steaks on the grates of your smoker. If you are using a grill to smoke the steaks, position the vent in the lid above the steaks so the smoke is drawn across the meat before escaping out the top. You can open or close the vent depending on how you want to regulate the temperature of the smoker. Opening the vent will allow more oxygen into the smoker and will increase the heat. Closing the vent will snuff out the air and lower the heat of your smoker. The ideal position should be about ¾ the way open to allow for enough air flow to keep the grill hot.
Your venison steaks should take about 3 to 4 hours to smoke depending on the size and temperature of your smoker. You can check the steaks about every 45 minutes to make sure your wood chips are still smoking and the temperature is still hovering around 225 - 275 degrees. See below for more information about smoker cooking times and how to determine when your venison steaks are done.

Smoked Venison Deer Steaks Smoking Time

You want to smoke your venison steaks until they reach an internal temperature of 165 degrees Fahrenheit. Typical smoking time is about 3 to 4 hours depending on the size of the steaks and temperature of the smoker. Venison can easily dry out on the smoker so make sure you do not leave it on the smoker for too long. See our
meat temperature chart
for full details on rare, medium rare, medium well, and well done internal venison steak temperatures.

Back to smoked venison recipes >
See all smoked recipes >