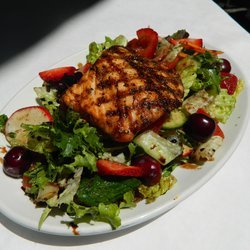 This is a great salad recipe that can stand on its own as an entree. We recommend smoking a whole Salmon and slicing the fillets into individual sized portions to make different dishes with them since it will take you a couple hours on the smoker. Salmon is a protein-rich meat that is low in fat so this salad is a great way to eat healthy and still get all the nutrients of a steak. Our version calls for a garden salad mix but feel free to mix it up with other types depending on your preference. Also, we recommend balsamic vinaigrette or a lemon dill to pair with this salad but your dressing may change depending on the greens you decide to use.

---
Smoked Salmon Garden Salad Ingredients
Whole Salmon fillets
Lemon pepper seasoning
Salt and pepper
American salad blend mix
Tomatoes
Black olives
Red onion

Croutons
Salad dressing of your choosing (balsamic vinaigrette or lemon dill is recommended)

Sliced lemon
Apple or cherry wood for your smoker
Smoked Salmon Salad Directions
Fire up your smoker or grill for indirect grilling. As the name states, you want to make sure your fish will not go directly above the flame so it will get residual heat and smoke from your wood.
Once the fire is ready, put your smoker wood over the flame to create a nice smoke inside the cooking area. If you are using a gas or electric setup we recommend using a smoker box where your chips can go inside without burning up immediately. With charcoal, you can put the wood directly on the flame but use bigger wood chunks so it won't burn out quickly.
Line the grill grate with a foil tray with some fresh squeezed lemon juice in the bottom. Season your Salmon with the lemon pepper, salt and pepper and then put the fillets on the foil tray.
Smoke for 2 hours and let the fillets rest for 5-7 minutes before slicing into portions for salads.
Prepare your salad by cutting the tomatoes and red onion and mixing together with the American blend, croutons, and black olives. Top with a slice of smoked Salmon and enjoy with a lemon wedge on the side!