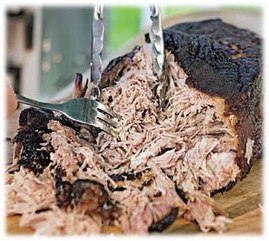 How to Smoke Pulled Pork
Pulled pork is a favorite barbecue recipe that can be found at almost every BBQ restaurant across the United States. You mainly find this classic recipe crafted into a pulled pork sandwich. Pulled pork got its name from the way it is prepared after it is cooked. You simply pull the pork apart by hand or with a fork until it is shredded and serve it on top of bread or inside a sandwich. Most restaurants make pulled pork from a mixture of different cuts of pork ranging from pork shoulder, pork Boston butt, and pork roast. Pulled pork is popular for home grill masters because of its tender texture and economical price. It is also more forgiving than other cuts of meat that tend to dry out during the long smoking process.
---
Smoked Pulled Pork Recipe Ingredients
1 pork shoulder, butt, or roast, 5 pounds

2 tablespoons dry barbecue seasoning

1 medium onion, chopped
1/2 cups ketchup
1/3 cups cider vinegar
1/4 cups packed brown sugar
1/4 cups tomato paste
2 tablespoons sweet paprika
2 tablespoons Worcestershire sauce
1 1/2 teaspoons salt
1 1/4 teaspoons ground black pepper
Other Recipe Ingredients
1 bottle of barbecue sauce

1 bag of charcoal
1 bottle of lighter fluid or a

charcoal chimney starter



1 or 2 bags of wood chips of your choice
Aluminum foil
Smoked Pulled Pork Directions
Soak your wood chips in water and turn on your smoker or light your charcoal about 35 minutes prior to putting your pulled pork recipe on.
Mix together all of your seasoning ingredients and rub them all over the outside of the pulled pork.
Wrap your wood chips in an aluminum foil pouch and punch holes in the top with a fork in order to allow the smoke to escape the top of the pouch. Toss the pouch on top of the charcoal right before you put your chicken on the smoker. You may need to create another wood chip pouch after a few hours because your wood chips will eventually burn away.

Put your pulled pork recipe on your smoker. If your grill or smoker lid is adjustable, make sure it is aligned over the top of the pulled pork.

Check the pulled pork shoulder every 2-3 hours to add smoker wood chips and/or more charcoal to make sure the temperature remains stable. You can also mop or spray (using a spray bottle) on any liquid seasoning such as Worcestershire or apple juice to add further moisture to your pulled pork. Your 5 pound pork shoulder should take about 9 hours to complete. Check your internal temperature for 195 degrees Farenheit.
Pulled Pork Smoking Time
This recipe typically takes about 9-10 hours to smoke. Pork shoulder takes approximately 1 to 1 1/2 per pound to smoke under normal smoking temperatures and conditions. Check your pork shoulder every couple hours and monitor it for an internal temperature of 195 degrees Fahrenheit before you pull the pork shoulder off the smoker. Remember not to over check your pork shoulder while you are smoking it because every time you lift the lid you are letting out heat and smoke flavor. We recommend purchasing a
wireless digital meat thermometer
in order to monitor the internal temperature from inside while you are smoking the pulled pork.
See all smoked pork recipes >
See all smoked recipes >