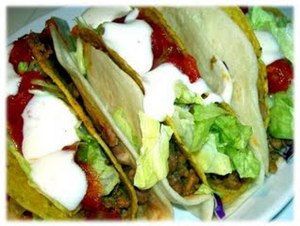 How to Smoke Pork Tacos
Rarely can you find a restaurant that will take the time to smoke a pork shoulder in order to make shredded pork tacos that will melt in your mouth. If you are a grill master that is already smoking a whole pork shoulder, this recipe might be the perfect dish to use up some of your extra leftovers on instead of always making sandwiches. The other great thing about tacos is you can serve them buffet style so your family and friends can build their own tacos and select the toppings they prefer. Feel free to customize the recipe below with extra ingredients such as guacamole, taco sauce, hot sauce, corn or another type of smoked meat.
---
Smoked Pork Tacos Recipe Ingredients
Smoked pork shoulder

(shredded)
Flour tortilla taco shells

Hard tortilla taco shells
Lettuce
Salsa
Pinto, refried or black beans
Shredded Mexican cheese

Cream cheese
Smoking Pork Tacos Directions
This simple yet delicious recipe requires a lot of hard work up front to smoke a pork shoulder, so we suggest keeping this recipe on hand next time you plan to make one.

Warm your tortilla shells in the microwave for 30 seconds.
Warm your beans in a small pot on the stove over medium heat for 5 minutes.
Set your tortilla shells and beans out next to the rest of the taco ingredients.
The best way to serve your smoked pork tacos is to find a divided contain or a number of serving bowls to store your ingredients in. Half of the fun is loading the taco exactly the way you like it so this will allow you to set up the meal in a buffet style. Prepare your tacos and enjoy!

Back to smoked pork recipes >
See all smoked recipes >