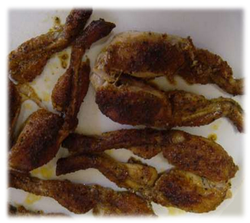 How to Smoke Frog Legs
This basic smoked frog legs recipe will surprise your taste buds. We recommend you look for the biggest frog legs you can find for smoking them. Small frog legs are hard to smoke because they tend to cook too fast before the smoke has a chance to flavor the meat. If you have small frog legs, we recommend our grilled frog legs recipe instead of trying to smoke them.

The smoke on your frog legs, paired with the rub seasonings, make this a delicacy you will want to try again and again. Feel free to customize your seasoning rub to your liking or with whatever you have in your kitchen. Cajun or spicy seasonings go well with smoked frog legs.
---
Smoked Frog Legs Recipe Ingredients
4-8 frog legs

Olive oil or melted butter

Cajun seasoning or BBQ seasoning
Honey mustard, ranch, BBQ sauce, or hot sauce for dipping
Smoking Frog Legs Directions
Start by firing up your smoker to 225 degrees. It may take about 30 minutes for your smoker to fully warm up, especially if you are using charcoal.

Next, take some melted butter or olive oil and mix it with either Cajun or BBQ seasoning depending on your mood. The mixture should create a spreadable paste if you get the consistency just right. Coat the paste mixture to surround the frog legs on all sides.
If your frog legs are small and you are afraid they might fall through the grates, you can line the grill grates with a sheet of foil sprayed with cooking spray or set them in a foil pan. Otherwise you will want to oil the grates with olive oil and set your frog legs directly on the smoker... just remember your frog legs will shrink during the smoking process.
After about 2 hours, depending on your heat and size of frog legs, you should be able to pull the frog legs off the smoker and serve next to your favorite dipping sauce. We recommend dipping in either honey mustard, ranch, BBQ sauce or hot sauce.
Smoked Frog Legs Smoking Time
Depending on the size of your frog legs, smoking them may take about 2 hours to finish. If you over cook them they will dry out on the smoker but going an extra 30 minutes. You are looking for an internal temperature of about 160 degrees.

Back to smoked frog recipes >
See all smoked recipes >