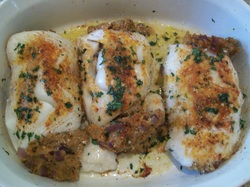 Not many people have had a cream cheese stuffed fish fillet, making it one of the best kept secrets for how to prepare your next batch of fish that you caught. We pride ourselves in coming up with unique dishes that can make an old and boring fish stand out in a crowd. We have found the best way to make this recipe is by using a larger fish fillet since you will need to stuff it. If you decide to use a small little bluegill, you might have trouble actually getting enough space between the fillets to fill it with much of the cheese. Bass, tilapia, salmon or other larger fillets tend to work perfectly for stuffing. Since you will be cutting a slit in the fillet and stuffing that pocket you create with cream cheese, these larger fillets are perfect with this recipe.

---
Cheese Stuffed Fish Ingredients
Large fish fillets (Bass, tilapia, salmon or other)
Cream cheese
Parsley
Oregano
Salt and black pepper
Lemon juice
Olive oil
Bread crumbs

Wild rice and lemon slices

Cheese Stuffed Fish Directions
Leave the cream cheese out of the refrigerator for 15 minutes to let it soften.
Start by warming up your smoker 275 degrees or medium heat. Add a fruit wood that is light and will pair nicely with the flavors of the fish.

Slice the side of your fish fillets to create a little pocket in the side of the fillet. This will allow you to insert the cream cheese through this pocket later.
Season the fillets with salt and pepper.

Take your cream cheese and stuff the inside of the fillets.

Top the fillets with the parsley, oregano, lemon juice and bread crumbs.
Put your stuffed fillets in your smoker for an hour to an hour and a half. When the cream cheese is hot in the center and your fish is white and flaky, remove them from the smoker and let them cool. You can serve this dish on a bed of wild rice and a lemon slice on the side.