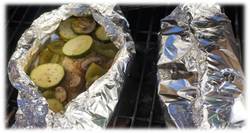 Smoking fish can be a great way to enjoy fish while keeping it healthy. This recipe uses tin foil to wrap your fish will also ensure that the fish stays moist and doesn't dry out. The key is to poke enough holes in the foil to allow the smoke to permeate the pouch and enhance the smoky flavor. Adding ranch dressing and a few vegetables to the foil pack will ensure the fish is full of flavor. In this recipe we use mushrooms, bell peppers, broccoli or zucchini and onions. Feel free to substitute the vegetables with another variety.

---
Ranch Smoked Fish Ingredients
Fish fillets (1-2 fillets per person depending on their size)
Salt and pepper to taste
1/3 teaspoon cayenne pepper
1 Ranch packet
2 medium red bell peppers
2 cups broccoli or zucchini
1 medium onion
Aluminum foil
Cooking spray
Ranch Smoked Fish Directions
Heat your smoker by lighting the charcoal, turning on the gas or the electrical.

Skin the fish you catch and make sure to remove any bones from the fillets. You can run your finger across the fillet meat to ensure all bones have been properly cut out.
Rinse the fish fillets of your choosing under water and pat dry with paper towels.
In a bowl mix the ranch packet and cayenne pepper
Fully coat both sides of your fish with the mixture.
Spray the tin foil with the cooking spray
Wrap the fish in the foil.
Add cubed bell peppers, broccoli and onion to the foil packet.
Place the packets in the center of the oven directly on the racks.
Smoke for 1 to 2 hours or until fish flakes with fork.