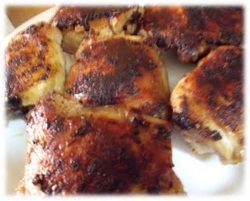 How to Smoke Chicken Thighs
If you like dark meat that is packed full of flavor, chicken thighs that are hot off the smoker are an inexpensive way to feed the entire family. The other nice thing about cooking just the thighs is they tend to cook faster than smoking a whole bird, yet still provide adequate meat on the bone versus smaller cuts like
chicken wings
.
Thighs are a popular cut to smoke due to their fattier content than white meat and their relatively low time to smoke. Typically thighs can be smoked in 3 hours or less compared to 4 for a breast and 5 for a whole bird.
---
Smoked Chicken Thigh Ingredients
6 chicken thighs with the skin on
1 cup olive oil
2 tablespoons paprika
2 tablespoons chili powder
1 tablespoon thyme
1 tablespoon garlic powder
2 tablespoons cayenne
1 tablespoon salt
2 tablespoon black pepper
Smoked Chicken Thigh Directions
Light your smoker and allow it to come up to a temperature of 200-220 degrees.
Mix all dry rub seasoning ingredients thoroughly.
Rub olive oil to fully coat the chicken thighs.
Sprinkle the mixed seasonings all over the chicken thighs to ensure they are fully coated with rub.
Lay your chicken thighs on the smoker rack and add smoker wood chips at the same time you add the meat. Apple, pecan, or cherry wood is ideal for this recipe.
It is recommended to ensure there is enough wood every hour. Smoke your chicken thighs for 2 hours and rotate them to ensure they cook evenly.
Total cooking time is 3 to 4 hours total depending on a variety of factors such as size of the thighs, temperature of the grill and outside, how windy it is, and how often you open the smoker lid which will let the heat out. Use an instant-read meat thermometer to check for an internal temperature of 165 degrees.

Back to smoked chicken recipes >
See all smoked recipes >