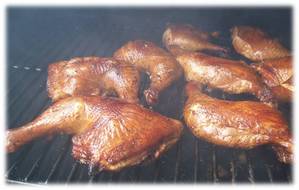 How to Smoke Chicken Quarters
Chicken can be split up into a variety of different cuts. A quarter cut gets its name from consisting of 1/4th of the chicken and multiple smaller cuts make up a chicken quarter. There are typically leg quarters that contain a thigh, portion of the back, and wing as well as a breast quarter that has a breast, wing and another portion of the back. Many grocery stores sell chickens that are pre-cut this way and can be an attractive way to smoke a bird if you are in a time crunch.


---
Smoked Chicken Quarters Ingredients
7-8 pounds of chicken quarters (legs and thighs)
Water (to cover)
1 cup salt
1/2 cup sugar
1/4 cup olive oil
2 tablespoons onion powder
2 tablespoons cayenne pepper
2 teaspoons paprika
2 teaspoons garlic powder or 2 crushed garlic cloves
1-1/2 teaspoons black pepper
1 teaspoon dried oregano
Fruit wood of your choice

Smoked Chicken Quarters Directions
This recipe begins with a brine in order to suck moisture into the meat and keep it tender while cooking. Warm a pot of water and mix your salt and sugar until dissolved. Let the mixture cool and add your chicken quarters to the water. Let the chicken brine in the salty sweet mixture for at least 6 hours.

Light your smoker to 220 degrees and mix oil and remaining dry rub seasoning ingredients thoroughly in a bowl.
Rub olive oil and seasoning mixture to fully coat the chicken quarters.
Lay your thighs and legs on the smoker rack and add smoker wood chips at the same time you add the meat. Apple, pecan, or cherry fruit wood is ideal for chicken since it offers a lighter smoke flavor that pairs nicely with the light chicken.
Total cooking time is 2 hours total but it depends on a number of factors. Use an instant-read meat thermometer to check for an internal temperature of 165-170 degrees.
Back to smoked chicken recipes >
See all smoked recipes >