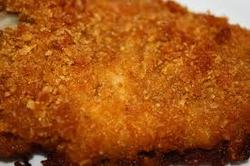 Everything fried is better. Well in this case it isn't entirely true. This recipe calls for a smoked and then fried fish to make the fish taste better. Frying definitely isn't the most healthy way to prepare this meat, but some may say that it is certainly the best. The smoke gives the fish a great surprise when you bite through the fried fish cornmeal batter. Frying it incorporates moisture while giving a delicious outside crunch. Plus, this lemon version of this classic recipe allows you to season the fish with a known ingredient that can balance out a fish that might otherwise have a "fishy" flavor.

---
Pan Fried Fish Ingredients
Fish fillets (1-2 fillets per person depending on their size)
2-3 ounces of vegetable oil
1/2 cup cornmeal
1/2 cup flour
Salt and pepper to taste
Slice of lemon

Pan Fried Fish Directions
Heat your smoker to medium heat and add fruit wood chips or chunks.

Sprinkle your fish fillets with salt and pepper and put them on the smoker for 30 minutes.
Remove your fillets and let them cool.

Add enough vegetable oil to a skillet to have a thin layer on the bottom.
Combine the cornmeal and flour into a single dish.
Fully coat both sides of your fish with the cornmeal/flour mixture.
Once coated put the fish into the hot skillet.
Flip fish after 2 minutes and cook on the other side for an additional 2 minutes. The batter should be a light gold color.
Remove the fish and garnish with a lemon slice.