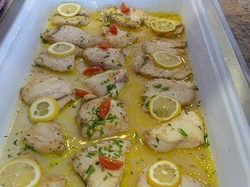 If you ask any chef what the most popular flavor pairing with fish they will tell you it is lemon. Lemon is known for being a seasoning and a garnish for fish all around the world. Not only does the acid in the lemon balance the flavor of the fish, its strong scent can also help to reduce some of the fishy smell of the fillets. Since our taste buds are actually connected to our sense of smell, lemon greatly enhances the flavor of this recipe. Now that you have learned the science behind why this is such a great recipe, let's get into the necessary ingredients and directions so you can start enjoying some dinner.


---
Lemon Smoked Fish Ingredients
Fish fillets (1-2 fillets per person depending on their size)
Enough fresh lemon juice to coat the fillets (either fresh squeezed or from the bottle)
1-2 lemons
Dried parsley flakes
1-2 tablespoons of melted butter
Sliced tomato

Salt and pepper to taste
Lemon Smoked Fish Directions
Find a tray or dish that can be used to marinate your fish fillets.

Fill the tray with the fish, fresh lemon juice, 1/2 sliced lemons, dried parsley flakes, sliced tomato, melted butter and salt and pepper to taste.

Marinate the fish for 4-6 hours to allow the flavors to permeate the meat.

Heat your smoker to medium heat and add a light fruit wood.

Put your fillets directly on the smoker for 1 to 1 1/2 hour or until the fish meat is white and flaky.