How to Brine Chicken and Turkey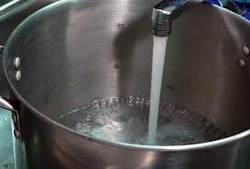 Why Brine a Chicken or Turkey?
You will be surprised how well brining the chicken or turkey really works at keeping your poultry from drying out. It is the process of soaking the chicken or turkey in a salty water mixture for a number of hours so the bird retains the moisture during the cooking process. There is nothing worse than a dry piece of poultry off a smoker and this technique solves this age old problem that is known to happen with lean poultry meat. Brining will tenderize the meat while adding flavor.
A solution of salt and sometimes sugar or other seasonings are dissolved in water and the chicken or turkey is then submerged for about 8-14 hours, to change the cell structure and making the poultry moist and more flavorful. Brining saturates the chicken and turkey with flavor of these seasonings. Unlike marinating, which flavors the outside, this gives you an internal deep flavor and increased moisture. After soaking the chicken and poultry, you can take the poultry out of the brine, pat it dry and smoke, grill, or barbecue (BBQ) it to perfection.