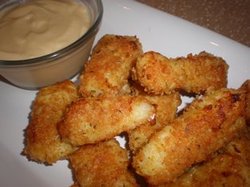 Every true fisherman knows how to fry up some fish. This recipe will finally get your kids to eat all that fish you catch and will have adults remembering their childhood with a little gourmet flare. The nice thing about frying fish at home is you don't always have to have a packaged fish batter and run to the store for specific ingredients. This recipe uses crushed up crackers as the batter and a milk and egg combination to make it stick. You generally will have these basic ingredients to make this flavorful dish already in your pantry and refrigerator. Garnished with a fresh cut lemon and a small bowl of tarter sauce will really add flavor and decoration to your plate.

---
Homemade Fried Fish Sticks Ingredients
Fresh fish fillets cut into strips
Oil (olive, canola, or vegetable)
Milk
Eggs, beaten
Ground crackers
Garlic pepper
Black pepper
Salt
Lemon pepper seasoning
Tarter sauce
Homemade Fried Fish Sticks Directions
Start by warming up a small home fryer or warm some oil in a saucepan. You are looking for roughly 360 degrees or medium-high heat on the range. If you are using a fryer, you will completely submerge the fish by dropping the basket so you want to ensure you have enough oil to fully cover the fish. If you are using a saucepan, it is better to put enough in the pan to cover half of the fish and turn it half way through the cooking process. Don't try to completely submerge the fish in a saucepan or you might end up with a kitchen fire.
Crack your eggs and beat them with a fork in a mixing bowl. Stir in a little milk to the mixture.
Ground up some crackers such as saltines. You can use the bottom of a bowl on top of a plate to crush the crackers or put them in a large zip-lock bag and use a rolling pin to crush them down.
Put your ground crackers in a bowl with garlic pepper, black pepper, salt, lemon pepper to taste.
Take your fish stick fillets that are cut into strips and create a little assembly line with the bowl of eggs and milk mixture then your cracker batter next to it. Drop your fish in the liquid and then fully coat them with the batter.
Drop your fish in the oil heated to 360 degrees and cook for roughly 3 minutes. If you are cooking in a saucepan you will need to flip at the 3 minute mark and cook the other side for 2 minutes.
Take your fried fish sticks and put them on a plate with a paper towel to help the oil drain off.
Serve your fish along with a lemon slice and tarter sauce.