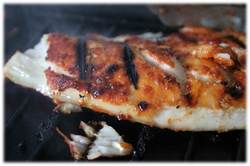 Tilapia is a family of fish that has become extremely popular due to its flaky texture and light flavor. It is also quite abundant because it encompasses an entire species of fish rather than one specific type. Grilling tilapia has become especially popular because it actually adds a layer of flavor to this otherwise very light in flavor fish. Many times baking tilapia can actually further dull the flavor of the fish which can make it bland. Many chefs will then attempt to add lemon juice on top of the fish in order to impart more flavor, however, this grilled version will not have the same problem. If you are looking for side items to make with this delicious dish, we recommend wild rice, a creamy pasta, or steamed veggies for an extremely healthy option. Pair this with a little white wine and you will remember to make this dish again.
---
Grilled Tilapia Recipe Ingredients

4-6 tilapia fillets
2 tablespoons paprika
2 teaspoons salt
2 teaspoons lemon pepper
2 teaspoons ground black pepper
2 teaspoons cayenne
Grilled Tilapia Directions

Light your grill to medium-high heat or light your charcoal grill 30 minutes in advance of cooking.
Take your tilapia and spoon a small drop of the seasoning mix on each fillet and spread evenly to fully coat the fish. Flip each fillet and repeat to coat both sides.
Oil a paper towel with olive oil and rub it on the bars of your grill. This will help to prevent your fish fillets from sticking to the grill and falling through the grates when you try to pull them off.
Put your fish on the grill and flip them once after 4-5 minutes. Try to avoid moving the fillets around as they will become flaky and may break apart.
After you flip the fillets after 4-5 minutes, cook the other side for 4 minutes and your grilled tilapia can be taken off the grill.
(Optional) Slice your lemon to use as a garnish on the side of the grilled tilapia that can also be used to squeeze over the top.
Grilled Recipe Categories

---
---