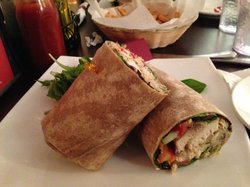 Fish is known for being a fraction of the fat of other meats and grilling it also cuts down on the calories compared to most cooking methods that can actually make it less healthy. If you are looking for a dish that is a little unexpected and can be made with a variety of ingredients to suit your taste buds, we recommend giving this one a try. If it is too cold in the winter months to really fire up the grill and cook your fish, we also suggest trying to broil your fish in the oven as an alternative method of cooking it. Just make sure you use fresh vegetables for a crisp and light flavor to enhance the wrap.
---
Grilled Fish Wraps Recipe Ingredients
1 large tortilla shell

Diced tomato

Shredded Lettuce or spinach

Cucumber

Sauce such as Siracha hot sauce, ranch, tarter or mayo

Salt, pepper and lemon juice
Grilled Fish Wraps Directions

Simple ingredients generally make the best foods. Just season your fish fillets with salt pepper and lemon juice and throw it on the grill for about 3 to 3 1/2 minutes on each side. Your grill should be set to about 375 degrees or a single layer of charcoal when raked down.

Once your fillets are cooked set them on a cutting board and let them rest. Slice your fillets into thin strips.

Prep your tortilla shells by warming them in the microwave for 10 to 15 seconds. Then stuff the tortilla with lettuce, diced tomato, cucumber, sliced fillets, and sauce.

Fold the tortilla over to create the wrap and cut in half straight or on a diagonal to give it a gourmet look.
Grilled Recipe Categories

---
---