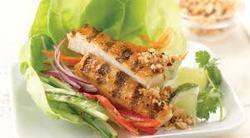 Fish lettuce wraps have become a popular dish as Americans are turning to more healthy alternatives to fast food cooking. A growing trend around the world is to eat more fish as more and more research is finding the health benefits of fish and the negative effects that red meat is having on cholesterol and heart problems. In fact, before fast food restaurants made their way to the Japanese, they were the healthiest population on earth due to all of the fish they caught and ate. So when you make this healthy lettuce wrap dish you can ask your heart and your taste buds to thank you.
---
Fish Lettuce Wraps Ingredients

1 fish fillet per lettuce wrap you want to make

Fresh cut Iceberg lettuce

Sliced carrots

Sliced red onion

Cut limes

Sliced tomatoes

Sliced green peppers

Salt and pepper

Ground nuts such as peanuts, walnuts or cashews
Grilled Fish Lettuce Wraps Directions

Start by grilling your fish fillets sprinkled with salt and pepper for 3 minutes on each side over medium high heat or about 375 degrees.
Rinse lettuce with water. Pull your lettuce into large chunks that form a bowl.
Place your sliced vegetables on the bottom of your wrap and then top it with your fish fillet and your ground nuts.
Garnish with a lime wedge and your guests can choose to squeeze some lime juice on their fish lettuce wrap if they choose.
Grilled Recipe Categories

---
---