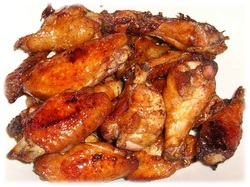 How to Grill Chicken Wings
The easiest way to make grilled chicken wings is to purchase a store bought buffalo wing sauce or go to a restaurant like Buffalo Wild Wings and ask to buy a bottle of their sauce. However, for those grill masters that like to make their dishes from scratch, we have included a list of sauce recipe ingredients and step-by-step directions below. The key to making buffalo chicken wings is to sauce your wings before you put them on the grill and baste them in it during the cooking process.
---
Grilled Buffalo Chicken Wings Ingredients
3 pounds chicken wings
1 teaspoons salt
1 teaspoons pepper
2 teaspoon ground cayenne pepper
Wing Sauce Ingredients
4 tablespoons butter
3/4 cup of your favorite hot sauce (Louisiana style is best)
2 tablespoons Tabasco Sauce
2 tablespoons brown sugar
2 teaspoons cider vinegar
1/2 teaspoon salt
1/2 teaspoon pepper
1 teaspoon ground cayenne pepper
Grilled Buffalo Chicken Wings Directions
Light your gas grill or charcoal grill and let it get up to medium-high temperature.
While your grill is heating up, season your wings with the salt, pepper, and cayenne seasonings.

Put your seasoned wings on the grill and grill for about 10 minutes on both sides, rotating and turning them to evenly distribute the hot spots on the grill to all the wings.

In a sauce pan, add all of the wing sauce ingredients together and bring to a boil. Remove from heat as soon as it reaches a boil.
Next, put your grilled chicken wings in a bowl and spoon the hot wing sauce on top. Shake the bowl to fully coat the wings on all sides.


Back to grilled chicken recipes >
See all grilled recipes >
Grilled Recipe Categories

---
---