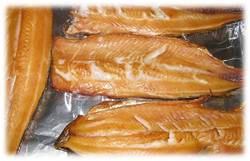 The recent popularity in pairing craft beers with smoked recipes makes this fish open for creativity. By adding your favorite beer to the batter gives that hint of flavor that you already enjoy! Try different ales or lagers to find the balance that is just right. If you use an IPA, just be forewarned it's a delicious treat for any hop head.

---
Beer Smoked Fish Ingredients
3 to 4 lbs of fish fillets (1-2 fillets per person depending on their size)
2-3 ounces of vegetable oil
12 ounces of favorite beer
1/4 teaspoon paprika
1/4 teaspoon cayenne pepper
Salt and pepper to taste
Lemon

Beer Smoked Fish Directions
Heat your smoker to medium-high heat.
Add enough vegetable oil to have a thin layer on the bottom of a foil pan.
Skin the fish you catch and make sure to remove any bones from the fillets. You can run your finger across the fillet meat to ensure all bones have been properly cut out.
Rinse the fish fillets of your choosing under water and pat dry with paper towels.
Put your fillets on the foil pan.

Apply the paprika and cayenne pepper over the fillets and drizzle the top of the fish fillets with your favorite beer.

Apply salt and pepper to taste.

Put your fish foil pan into the smoker and smoke the fish using a light fruit wood such as cherry or apple.
Smoke the fillets for an hour to two hours, depending on your temperate. The fish is done when it begins to turn white and flakes when you pull at the meat.

Pull the fish when it is done and squeeze lemon juice on the top to enhance the flavors before serving it. Serve by pairing the fish with the same craft beer you used to drizzle over the top of it before you smoked it.