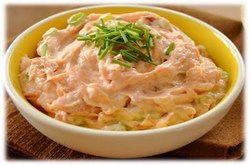 There is nothing better than a fish appetizer dip spread over some pita chips to entice your guests for the main course. This dish is also the perfect recipe to use when you have smoked a whole fish and are looking for creative ways to eat it rather than just throwing it over a bed of rice. The key to this recipe is having a food processor so you can blend all of the ingredients together properly to give it a rich and creamy flavor. You can make it without one but beware that you might get a couple clumps of one ingredient that will overpower the flavor. This recipe goes best with Salmon, Trout, Tilapia or other light white panfish.

---
Smoked Fish Appetizer Dip Ingredients
2 smoked fish fillets or about a half pound
1 teaspoon horseradish
2 tablespoons sour cream
4 ounces cream cheese
1 tablespoon minced roasted red pepper
¼ teaspoon hoisin sauce
1 teaspoon fresh lemon juice
Salt
Black pepper
Pita chips
Smoked Fish Appetizer Directions
Smoke your fish fillets for 2 hours in a smoker or grill. If using a grill, just make sure your heat isn't directly below the fish or you will overlook it. The best wood for smoking fish is apple or cherry due to its lighter smoke flavor. Hickory and mesquite will give a butter flavor to the light fish and should be reserved for red meats.

Tear or flake the fish into a large mixing bowl.
Add the horseradish, sour cream, cream cheese, roasted red pepper, hoisin sauce and lemon juice to the mixing bowl.
Beat or stir well until everything is combined, about 2 minutes with an electric mixer or hand mixer.
Season with salt and pepper to taste.
Refrigerate before serving.
Serve with pita chips.