Smoked Tilapia Recipe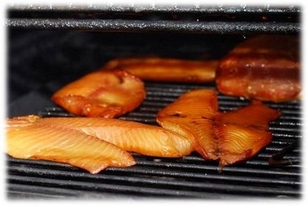 How to Smoke Tilapia
Smoking tilapia is a great way for you to enjoy this popular fish in a nontraditional way. Tilapia is becoming one of the most common freshwater fish recipes in restaurants across the globe due to its light flavor and easy availability. However, you won't see too many restaurants that take the time to smoke it low and slow for 2 hours like this recipe calls for. Tilapia is great when paired with a light white wine and rice side dish. Read the smoking recipe instructions below for helpful tips that will make you a pro the first time you make this smoked tilapia recipe.
---
Smoked Tilapia Recipe Ingredients
5 tilapia fillets

Ground black pepper to taste
Salt to taste
2 tablespoons chopped fresh dill or basil
3 tablespoons garlic and herb seasoning
1 tablespoon olive oil
1 lemon, sliced
Other Recipe Ingredients
1 bag of charcoal
1 bottle of lighter fluid or a charcoal chimney starter
1 or 2 bags of wood chips of your choice (apple or peach wood for a lighter flavor)
Smoked Tilapia Recipe Directions
Soak your wood chips and light your smoker. It will take approximately 30 minutes for a charcoal smoker to become hot and ready with a glowing white ashy color. Gas grills will heat up quickly and should be ready to go in about 5-10 minutes.

Begin preparing your tilapia by mixing the black pepper, salt, dill or basil, and garlic and herb seasoning, and the olive oil together. Next rub in all of these seasonings into the tilapia fillets on both sides.
Wrap your wood chips in an aluminum foil pouch or a place in a metal smoker box. Make sure you punch holes in the pouch so the smoke can escape the pouch.
Place the tilapia on your smoker and make sure your vent is set to fully open. If your smoker or grill lid is adjustable, position the vent directly over the top of the tilapia fillets.

Check the tilapia after an hour to make sure your temperature is holding and there are still wood chips smoking. Total cooking time for this smoked tilapia recipe is about an 1 1/2 hours to 2 hours. See below for more information about smoker cooking times and how to determine when your tilapia is done.
Serve each tilapia fillet with the sliced lemon as a garnish or to squeeze directly on the finished smoked tilapia.


Tilapia Smoking and Cooking Time
The cooking time for this recipe is about 1 1/2 hours to 2 hours to smoke the tilapia. There is one simple test you can always perform with fish to check for doneness. Simply insert a piece of metal, a fork or a
meat thermometer
work best, in the middle of the tilapia for 5-10 seconds. Then feel the end of it to determine if it is warm or not. If it is warm you know your tilapia is done and is ready to be pulled off the smoker. You can also check to see if the tilapia has turned to a white color with flaky texture.
Back to smoked tilapia recipes >
See all smoked recipes >