Beer Can Chicken Recipe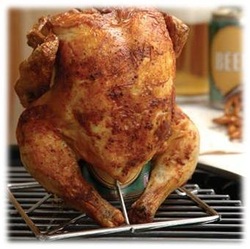 How to Smoke Beer Can Chicken
There is no surprise why this is one of our most popular smoking recipes. This is one of those recipes that actually gives you an excuse to drink beer. Beer can chicken is an American classic dish that as about as much aesthetic appeal as smoking chicken can get. Sometimes called, "Beer butt chicken", this simple beer can chicken recipe will walk you through the step by step directions from ingredients and how to prep the bird to setting up your grill or smoker for indirect grilling. You will be surprised at how easy this dish is to make even if you have not smoked a lot of meats. Feel free to swap out our recommended chicken rub ingredients with your own rub or even a chicken rub that you buy off the shelves of your local grocery store.

---
Smoked Beer Can Chicken Recipe Ingredients
1 whole chicken

1 16 ounce can of your favorite beer (drink half)

1 beer can chicken stand (optional)

1 meat injector

Smoked Beer Can Chicken Rub Seasoning Ingredients
2 tablespoons oil (vegetable, olive, or canola)
1/4 cup coarse salt
2 tablespoons chili powder
1/4 cup dark brown sugar
1/4 cup sweet paprika
2 tablespoons freshly ground black pepper

Other Smoking Recipe Ingredients

Smoked Beer Can Chicken Recipe Directions
Soak some wood chips of your choice in water for a couple hours. This will prevent them from flaring up and make them last longer while you are cooking your beer can chicken.

Since your beer can chicken will be standing up, prepare your smoker or grill for indirect heat. If you simply put your charcoal or gas burners right under your chicken, the bottom of the chicken will be burned and the top will still be raw. By setting it up for indirect smoking, you put the coals or burners on both sides of the grill, leaving the middle open so your beer can chicken is cooked evenly from the residual heat throughout the entire grill.

Remove neck and giblets from cavity of chicken, if your chicken came with them. Mix all of the rub seasoning ingredients together and rub them all over the chicken inside and out.

Drink half your 16 ounce can of beer and then take the top lid of the can off by using a can opener or punch extra holes in the lid to allow the beer steam to rise and season the beer can chicken. Lower the bottom open cavity of the chicken on the beer can so it is standing straight up. You can also purchase a beer can chicken rack like the one shown on the right that will add stability and make sure your chicken doesn't fall down during the smoking process. Place the chicken on the cool side of the grill, so it is indirectly grilled through the residual heat of the smoker.
The next step is to cover your smoker and walk away. After about an hour, you can check your chicken and lightly baste some extra beer on the outside skin. You want to make sure your temperature is holding steady and smoker chips are still smoking to flavor the chicken. Insert an instant read meat thermometer into the deepest part of the chicken breast. Your chicken will be done when it reaches 160°F - 165°F. The total cooking time will vary depending on the size of your chicken, and the internal temperature of the smoker grill. Keep checking the temperature over the next

When your chicken is done, transfer it to a large tray. Make sure you are using oven gloves because your hot beer may spill on your hands while removing it from the smoker. Let the chicken rest for at least 10-15 minutes before cutting into it. If you cut into meat straight off the grill it will be more tough because the juice molecules don't have time to move back into the outsides meat.
---
Smoked Beer Can Chicken Smoking Time
A 4 pound (lb) chicken will usually take around 2 hours or more to smoke. If you don't have a meat thermometer, a way to tell if the chicken is done is to poke it deeply with a knife, if the juices run clear and not pink, the chicken is done. We always recommend using a meat thermometer in conjunction with our
meat temperature chart
to make sure you remove all meats from the smoker at the prefect temperature.
Back to smoked chicken recipes >
See all smoked recipes >